You'll find a wide variety of annual events in the Basque Country's calendar, from glamorous celeb galas, to traditional fiestas.
Events in the Basque Country
It's fair to say that festivals in the Basque Country are quite typically noisy. So if you're a shy, retiring type you'll need to pluck up as much courage as possible to spend a weekend or more at one of these local events. However, if you're up for a party around food, drink, music… and yet more food and drink then the Basque Country really delivers. Here is our list of what's going on during each month of the year…
January
The weather might be pretty foul during deepest darkest winter in the Basque Country but there are some great festivals to experience. La Tamborrada is probably one of the main highlights in the festival calendar. What is it? Put very simply it's a drum parade through the streets (note, day and night) of San Sebastian in January. It usually starts at midnight around 19th January when a flag is raised in the Plaza de la Constitucion. Then, various drum corps of the city march perfectly uniformed through the old town from midnight to midnight, broken only by a short break at dawn for a traditional breakfast of churros and cognac. Nothing can really prepare you for the sheer decibel levels involved.
On 5th January the Epiphany is celebrated by the arrival of the Three Kings to most towns in the province. This is a lovely spectacle for adults and children, with young ones giving the Kings their letters full of wishes.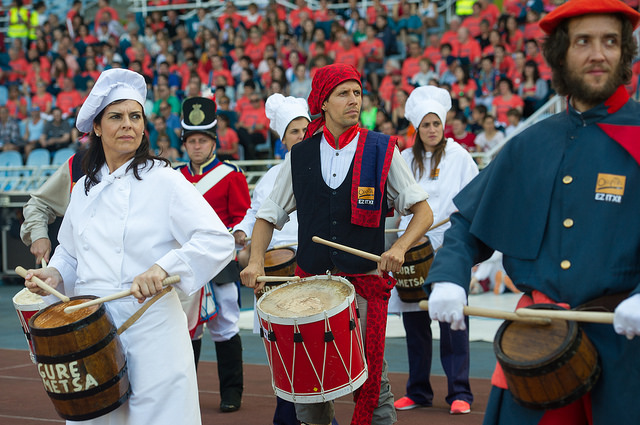 February
Another noisy festival in San Sebastian is Caldereros (Gypsy Day), on the Sunday or Monday before Carnaval (pre-Lent). This event commemorates the arrival of Hungarian gypsies in the 19th century, when people dress up as gypsies; there's banging of pots and pans, singing and dancing.
Nursemaids and Shepherds day is also held a few days before Lent in San Sebastian old town and in Gros. Men and women dress in traditional costume and re-enact courtship dances. Look out for some doll throwing as part of the dances.
Tolosa, south of San Sebastian, is home to the most famous carnival in the Basque Country. It's held in February/early March the week before Lent starts. Expect drumming, carriage processions and the traditional sardine-burying ceremony on Shrove Tuesday (to mark the end of Carnival and start of Lent).
From January to April – Cider Season
The Basque Country takes its cider very seriously. (In fact food and drink, generally, is of the utmost importance across the region.) From January to April, it's the season for producing sidra (cider), and for the most typical atmosphere, you can find plenty of the stuff at sidrerias (cider houses) in old farmhouses in the countryside, most notably in the area of Guipuzcoa province just south of San Sebastian. A typical meal would be cod, steak and local Idiazabal cheese with quince jam, accompanied by the new season's vintage straight from the barrel.
May
The coming of spring signals the start of three festivals for those who enjoy a drink. The first is Cider Day (Sagardo Eguna) in early May, which was started in Usurbil and now is celebrated in many towns up and down the region with free cider and live entertainment.
June
June gets underway with Beer Fest, held in San Sebastian and La Rioja, where you can taste many types of beer and wine. 23rd June is St John's Night where at coastal towns bonfires are lit on the beach to ward off evil spirits.
July

The Jazzaldia Jazz Festival in San Sebastian attracts renowned international musicians as it's the oldest Jazz festival in Europe. Over 100 acts hold concerts at different stages around the old town.
Also in July there's the BBK Rock Festival in Bilbao. Past acts have included global names such as The Black Crowes and Coldplay. It's held on the slopes of the Arriáiz Mountains which makes for a fantastic backdrop, while the campsite is on a grassy wooded mountain overlooking the city.Julio
August
In Vitoria on 4-9 August, the Virgen Blanca is a quirky fiesta which starts at 18.00 with a figure called Celedon holding an umbrella, Magritte-style, as he descends from the sky into the city's Plaza Virgen Blanca. Activities range from concerts to sack races and boat-launching competitions. Expect a lot of merriment.
The main fiesta in Bilbao is Semana Grande, which takes place in August and is a celebration of Basque heritage. It starts on the first Saturday after 15 August and lasts for nine days with music, theatre and other street events, regattas on the river, plus fireworks and plenty of all-day, late-night noise.
Over in San Sebastian there is a fireworks competition during this week where countries from all over the world compete to put on the best show every night.
In a completely different vein, earlier in August the Basque Rural Sport competition gets underway in Bilbao, with wood-chopping races and digging competitions.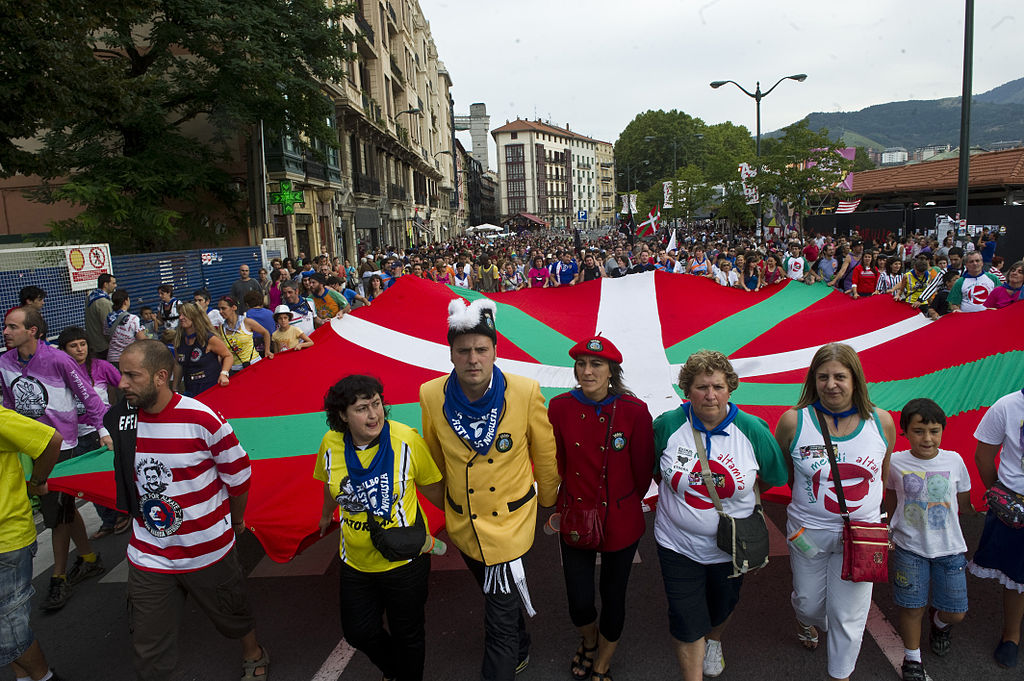 September

The most famous event in the province, attended by big film stars from around the world, is the San Sebastian Film Festival. This takes place every September at the Kursaal, the stunning contemporary glass building just across the river from San Sebastian old town, on Zurriola beach. You can star-spot in the bar of the Maria Cristina hotel, which is a popular meeting place for A-listers.
The first two Sundays in September are reserved for San Sebastian regattas. These races are known as the 'La Concha Flag' and thousands of spectators turn out to see the boat races in an inarguably beautiful setting – La Concha Bay. The regattas are steeped in history and were held for the first time in 1879.
San Sebastian also becomes a magnet for surfer types in mid-September, with the Nixon Surf Challenge, on Zurriola beach.
October
For foodies, Gastronomika is Spain's most important culinary conference. Held each October, also in the Kursaal, the world's finest chefs meet to cook and discuss the latest techniques, and you can taste the most avant-garde food and wines.
For budding thespians during October and November the International Theatre Festival is held in Bilbao. It's fun for all the family with circus, theatre, dance and musical performances.
December
Saint Thomas's Fair held on 21st December in San Sebastian allows visitors to sample txistorra sausage and buy cheese, honey and vegetables. Every year, according to tradition a live pig takes centre-stage in the Plaza de la Constitucion.
Tempted by this roundup of Basque Country events? If you're planning a holiday to the region and are looking for an affordable rental car, get in touch to find out what Gaursa Rent a Car can offer.