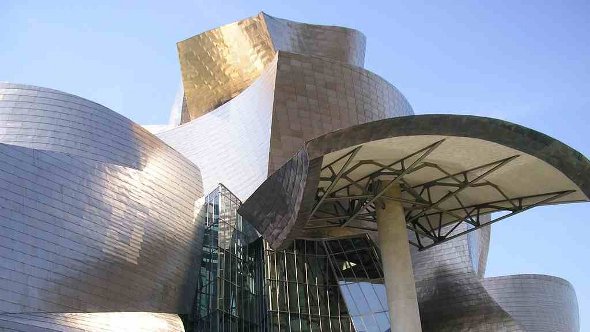 Bilbao is the gateway to the Basque Country. Located just a few km inland from the Bay of Biscay, the city cast off its grey, industrial image with the opening of the metal-clad, curvy Guggenheim Museum in 1997. Now Bilbao is a leading destination in Spain, with exciting new artistic and architectural projects.
The city's gastronomic scene is better than ever, with many world-class restaurants, while the pintxo offers bite-sized morsels of Basque cuisine. We at Gaursa Rent a Car love Bilbao, here is our guide to the city…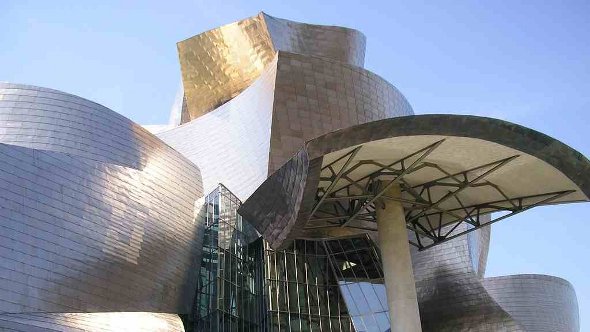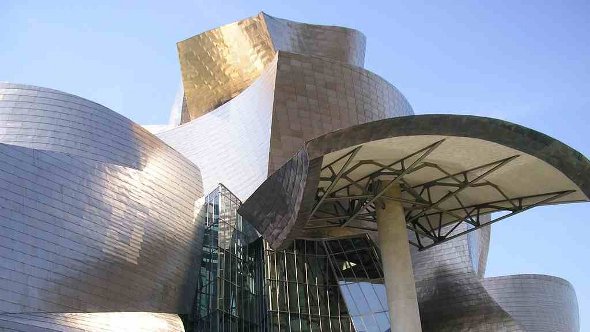 Things to Do in Bilbao
Take the Artxanda Funicular to the top of the Artxanda mountain, for wonderful views over the city. Bilbao is compact and easy to get around, with an efficient Metro system whose stations were designed by British architect Sir Norman Foster – the plastic tunnels, handy for protection from rain showers, are called "fosteritos".
The Guggenheim Museum Bilbao
The first stop on any visit to Bilbao must be the Guggenheim Museum (known locally as El Goog). Covered in shimmering fishy titanium plates, it's as stunning from the outside as within; inside you'll find a 55-metre-tall atrium and 20 galleries, with Richard Serra's huge steel sculpture A Matter of Time and works by Basque artists include Eduardo Chillida; exhibitions often show pieces from the other Guggenheims. The Zero Espazioa orientation room offers printable routes and in-depth information about the exhibitions, collection and building, as well as interactive games – great either for planning your visit, finding out more afterwards, or downtime for children.
You can also eat in the museum – Michelin-starred Nerua offers a nueva cocina vasca (new Basque cuisine) tasting menu, which you can enjoy on an outdoor terrace nestled against the iconic curved wall of the museum, while the Bistro has good-value set menus. Don't miss the works in front of the building, and at the back by the river Nervion – Jeff Koons' floral puppy and Louise Bourgeois' Mama – one of her giant spiders, as seen in Tate Britain.
Bilbao's Fine Arts Museum
Art lovers should continue to the nearby Museo de Bellas Artes (Fine Arts Museum), which has more than 6000 works from the pantheon of Spanish greats: Velazquez, Murillo, Goya, El Greco, Sorolla, and of course Chillida. Not wishing to be outdone by its close neighbour, this has modern glass extension, harmoniously added on the original building. For content, it's a close battle.
The Alhondiga in Bilbao (Azkuna Zentroa)
Another addition to the city's cultural scene is the Alhondiga (Azkuna Zentroa), a converted modernist wine warehouse (originally built as the corn exchange) which cult French designer Philippe Starck has made into a glass-walled gastronomic haven-cum-sports centre-cum-retail emporium, with inventive Basque cuisine taking pride of place in the four eateries, alongside local fashion and food in the shop. Have a swim, eat outside on the roof terrace, or take in a movie.
The River Nervion
The area along the river Nervion is very pleasant, with riverfront walkways bordered by cafes and shops – a process started by the pre-Guggenheim Zubizuri Bridge. A graceful, curved structure supporting by fine, sweeping suspension rods, this was designed by renowned Spanish architect Santiago Calatrava, also the man behind Bilbao's airport.
Eating in Bilbao
Pintxos are a key part of the Bilbao experience – little skewers with tasty morsels, lined up in rows on plates – pick the ones you want and then pay at the end. The best area for a txikiteo (pintxo crawl) is the Casco Viejo (old town), across the river from the 19th-century Enscanche business district – try Plaza Nueva, its colonnades hiding excellent restaurants and bars, and Siete Calles, seven parallel streets which date from the founding of the city. Pintxos cost about 2 euros each; venues to try include El Globo and La Viña del Ensanche. Typical dishes include tortilla (omelette), bacalao (cod) and cigalas (Dublin Bay prawns), while sidra (cider) or txakoli (local white wine) are popular accompaniments. Top restaurants include Malagan star chef Dani Garcia's Zortziko; established classic Rio-Oja, and inventive fish restaurant Mina.
Parks in Bilbao
If your children need to stretch their legs, or you're in the mood for some quiet contemplation, parks in Bilbao include Doña Casilda Iturrizar Park, next to the Museo de Bellas Artes, with its ornamental pond, and the Parque Etxebarria, site of a former steel factory, offering great views of the Casco Viejo.
Also great for children, but interesting for adults too, is the Museo Maritimo Ria de Bilbao. This modern riverside museum has interactive displays about the maritime history of both Bilbao, which has a strong shipbuilding heritage, and the Basque Country. Guaranteed kids' favourite: climb about in boats pretending to be sailors and pirates.
Festivals in Bilbao
The main fiesta here is Semana Grande, which takes place in high summer. It starts the first Saturday after 15 August and lasts for nine days – expect music, theatre and other street events, plus fireworks and plenty of all-day, late-night noise in general.
Read our Bilbao city guide and thinking about a trip? Get in touch with our Bilbao office.