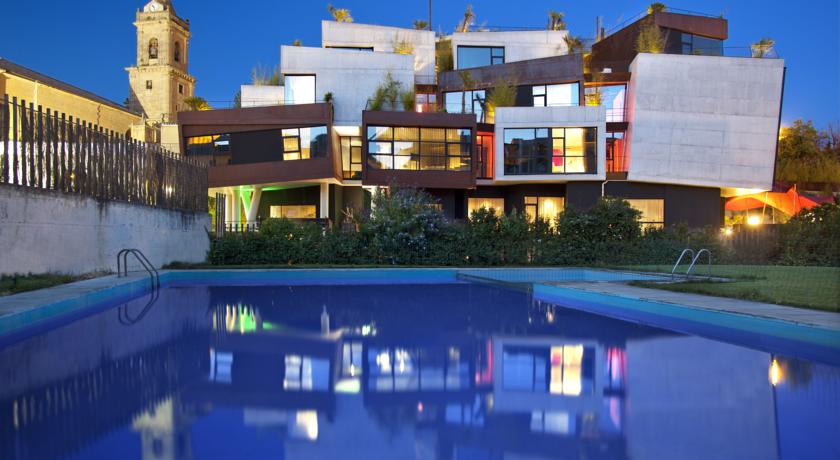 The Best Rural Hotels in the Basque Country
In terms of natural beauty the Basque Country really has it all. Lush green rolling hills, pristine natural beaches, dense forests and beautiful lakes, it's one of the most picturesque regions of Spain.
If you're fortunate enough to be able to spend some time here, whether escaping the heat of the summer, wanting a gastronomic journey or a romantic getaway, its hotels really are outstanding. Here is our pick of the best rural hotels in the Basque Country.
Hotel Eguren Ugarte, Laguardia
This 21 room hotel in La Rioja is set in its own vineyard with panoramic views. The emphasis is on comfort and the rooms have been furnished in a contemporary modern way. There is a complimentary guide of the vineyard for all guests and wine tasting can be arranged. The grounds of the hotel are both beautifully kept and extensive, making them ideal for horse riding, mountain biking and walking. There are two restaurants offering fine dining in atmospheric dining rooms.
Address: Carretera A-124 Km., 61, Paganos, 01309, Laguardia, Alava; 945 60 07 66. More information.

Hotel Dolarea, Beasain
This hotel is in a small town called Beasain, located in the Goierri region of the province of Gipuzkoa. While the building is a typical, 17th-century black and white wooden structured mansion typical of the area, inside it's been modernised completely and offers a minimalist feel with the very latest fixtures and fittings. It has a good restaurant which specialises in Basque cuisine. It's situated next to a river beside the Igartza Palace and comes, conveniently, with its own private parking.
Address: Nafarroa Etorbidea, 57, 20200 Beasain, Gipuzkoa; 943 889 888. More information.
Hotel Ibarra, Zalla
The small town of Zalla in the Salcedo Valley is where we find Hotel Ibarra. Individually decorated rooms make this immaculate rural hotel an invitingly homely place to stay. Bold art, delicate murals adorning the walls, antique furniture and reclaimed, brightly restored pieces add to the comfortable and elegant feel of the place. The Camino de Santiago passes very close to the hotel and its setting in dense woodland and rolling lush, grassy hills make it a hiker's, mountain biker's or horse rider's ideal location. If that's not your bag there are two golf courses nearby, too.
Address: Barrio Llantada, 11, 48860 Zalla, Bizkaia; 618 78 97 20. More information.
Hotel Iturregi, Getaria
Overlooking the coast of Gipuzkoa, Hotel Iturregi is a small luxury hotel with beautiful interiors, outstanding views and a pool. A 4-star establishment, it offers everything you would expect of this standard, such as a range of massages and facials in the comfort of your room. One of the main routes of the Camino de Santiago passes by the hotel, as well, making it popular with wandering pilgrims.
Address: Barrio Azkizu, 20808 Getaria, Guipuzcua; 943 89 61 34. More information.
Hotel Viura, Villabuena de Alava
Situated in Villabuena de Alava in the heart of La Rioja, this modern hotel is comprised of cube modules at jointy angles, stylish interiors and rooms flooded with light. In terms of facilities, there's a gymnasium, huge roof terrace, bar, restaurant and bodega. Viura has its own Vinoteca which isn't affiliated with any particular winery so their sommelier selects the best wines in the region.
Address: Calle Mayor s/n, Villabuena de Alava, 01307 Alava; 945 60 90 00; More information.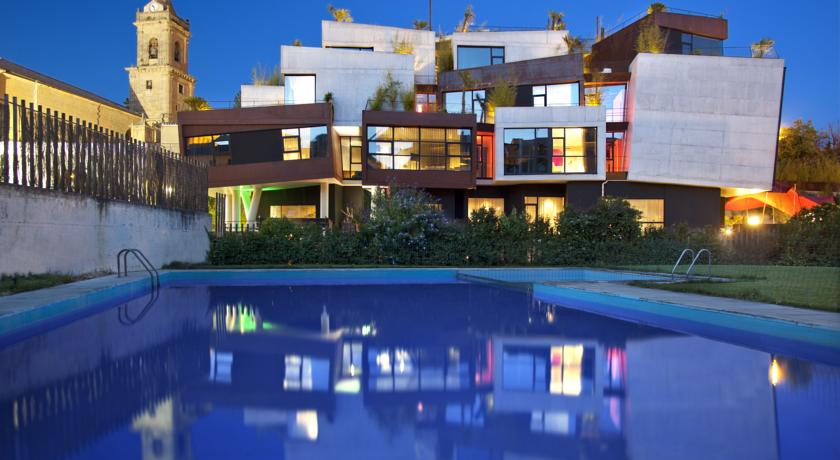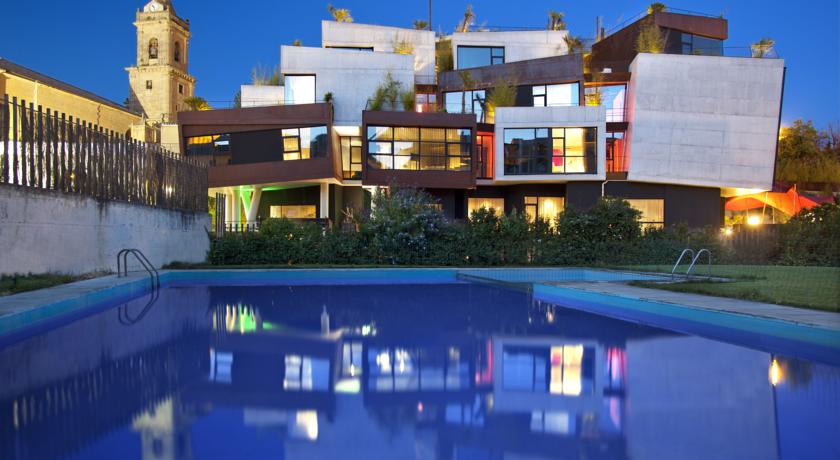 Iriarte Jauregia Hotel, Bidegoian
Located in Bidania (Bidegoian), a beautiful valley 500m above sea level, this is a beautifully restored 17th-century palace with a walled garden. A 4-star rural hotel with 19 rooms, it's decorated with antique furniture and fine art. All rooms have king-sized beds, and also offer a pillow menu in the suites and superior rooms. Outside, the surrounding grounds are exceptionally well looked after. You won't want to leave.
Address: Eliz bailara 8, Bidania, 20496, Bidegoian, Guipuzcoa; 943 68 12 34. More information.
Marques de Riscal, Elciego
This iconic building is probably one of the most instantly recognisable hotels in Spain and no list of Basque Country hotels is complete without it. Designed by Frank Gehry, the hotel is part of a 100,000m2 complex carefully created for the making, caring for and studying of wine. It is a work of art inspired by wine and made for wine lovers. The hotel's 43 rooms and suites are contemporary and spacious. The hotel has two restaurants including the Michelin-starred Marqués de Riscal Restaurant. The spa has an indoor heated pool and specialises in vinotherapy. While not strictly 'rural' it's surrounded by vineyards and the bodegas of Marques de Riscal dating from 1858.
Address: Calle Torrea, 1, Elciego, 01340; 945 180880. More information.
Castillo de Arteaga, Gautegiz Arteaga
This incredible hotel is situated in the Natural Biosphere Reserve of Urdaibai – a UNESCO heritage site. The hotel is a painstakingly restored castle, parts of which date back to the 13th century. The 13 unique rooms – from duplexes with private terraces, to others that come with enormous baths – are all very generous in dimensions and beautifully decorated. The castle's dining room can seat up to 230 guests so it is an ideal wedding venue.
Address: Calle Gaztelubide, 48314 Zelaieta, Biscay; 946 24 00 12; More information.
Like our pick of the best rural hotels in the Basque Country, but looking for something a little more urban from your visit? Check out a few of our favourite Bilbao hotels.
Gaursa Rent a Car rent a car offers a wide fleet of vehicles to solve problems of mobility for private individuals and enterprises. You can find us at our offices in Bilbao, San Sebastián, Vitoria, Iurreta, Eibar, Irún, Biarritz and Hendaya.