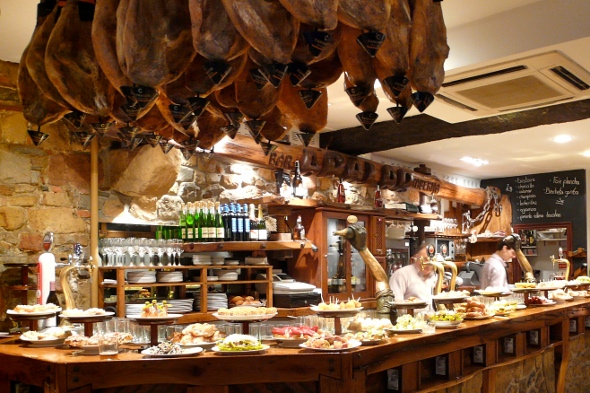 Basque Country Food and Drink
From seafood and pintxos to sagardoa and rioja, the Basque Country is a foodies' paradise – not to mention the constellation of Michelin stars boasted by restaurants in and around Bilbao and San Sebastian. Here we explain about Basque gastronomy, its unique foods and drinks, plus the best restaurants in the two major cities of the region.
In the Basque country, as in the rest of the Iberian Peninsula, food is a key part of life, whether it's eating local produce from the lush green valleys and mountains or going on a txikiteo (pintxo bar crawl).
Seafood plays a leading role in Basque gastronomy; fishing has always been an important part of this coastal region's culture. You don't have to travel too far along the coast before discovering a scenic fishing town for some fresh grilled fish, such as Ondorra or Lekeito. Typical fish dishes here are bacalao pil-pil (spicy with garlic and chilli), txipirones en su tinta (squid cooked in its own ink), and txangurro (spider crab).
San Sebastian Gastronomy
Elegant San Sebastian, the region's second-largest city, is considered one of the top gastronomic destinations in Spain, if not internationally; a total of 16 Michelin stars are held by restaurants here, with a trio of three-stars. The woman previously voted best chef in the world, Elena Arzak, has her restaurant in the city, co-run with her father Juan Mari, while another star attraction is six Michelin-starred chef Martin Berasategui who also has an eponymous restaurant in the city. The style of food practised by these highly respected super-chefs is nueva cocina vasca (New Basque cuisine), whose crucial differentiation is that it uses unusual combinations of meat, fish, and fruit (sardine with strawberry; lobster with pork; apple, eel and foie gras), treated with modern techniques, to create avant-garde dishes with innovative tastes, textures and aromas. Be aware that these restaurants, as the heirs to El Bulli, are once-in-a-lifetime experiences, with a price-tag to match.
Even if your budget doesn't stretch to the Michelin experience, there are plenty of other possibilities for sampling the superb Basque cuisine – strolling the streets from bar to bar on a pintxo crawl is a typical way to spend a Friday or Saturday night. Pintxos are the Basque version of tapas – tasty morsels of octopus, prawn or meat spiked onto a little stick, in unusual combinations, laid out in plates on the bar for you to try; keep your sticks so you know how many you've eaten, to pay when you leave.
San Sebastian even has a Basque Culinary Centre, also known as the Faculty of Gastronomic Sciences, which offers university degrees in culinary arts, and carries out research.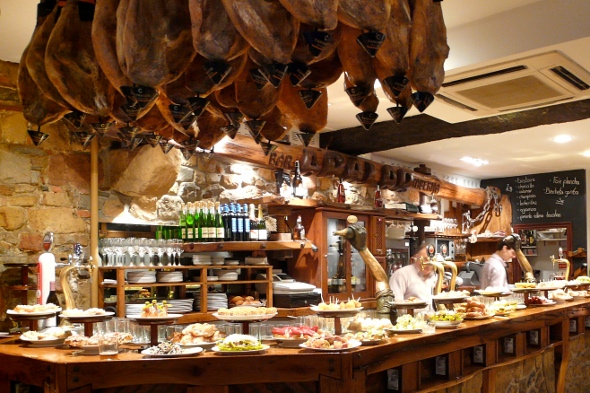 Basque Food Markets
Markets are central to food culture in the Basque Country – if you're in the town of Guernica, (made famous by Picasso's painting) on a Monday, don't miss the market, celebrated for its excellent produce and lively atmosphere.
While the hard-edged but culturally vibrant port of Bilbao can't quite match the huge Michelin star haul of its more genteel fellow Basque city, gourmet tastes will be more than satisfied. Even museum restaurants have a Michelin star – Nerua in the Guggenheim has an outside terrace so you can admire Frank Gehry's famous titanium cladding close up.
Wander around the narrow medieval streets of the Casco Viejo – a great place to go on a txikiteo (pintxo bar crawl), stopping at various locations to sample their offerings. Don't miss the vast Mercado de La Ribera, next to the river. The largest covered market in Europe, this three-storey building was renovated in 2010 and now offers a vast array of fresh fish, meat, and fruit and vegetables.
Basque Country Wines
The Basque Country produces some superb wines, using tempranillo grapes – the Rioja Alavesa, in the southern part of the region, borders La Rioja, famous for its excellent reds. In Elciego, you'll find Frank Gehry's Hotel Marques de Riscal, a stunning work of shimmery, curved architecture by the Guggenheim's creator. The complex also houses a bodega producing high-quality Cabernet Sauvignon wines, as well as excellent Rueda whites. One of the restaurants has, yet another, Michelin star – it's worth a visit to take a tour of the bodega, have a meal and, of course, buy some wine.
Spanish Cider Heartlands
Northern Spain, especially Gipuzkoa in the Basque Country, is famous for its sagardoa or sidra (cider) – forget the fizzy, clear, commercial stuff; this is a natural, cloudy apple drink, more akin to scrumpy. Traditionally, Basque cider is poured into the glass from a height to allow oxygen to enter. If you're here between January and April, go and sample the new season's vintage at a sagardotegi or sidreria (cider house). A typical meal would consist of a cod tortilla, or cod with peppers, followed by steak, and then Idiazabal cheese with carne de membrillo (quince jelly).
This region has various other alcoholic drinks which are only made here: txakoli is a (mostly white) wine from Vizcaya, while patxaran is a liqueur made from sloes.
A holiday in the Basque Country offers you a feast of new flavours waiting to be discovered.
Top Restaurants in Bilbao
Etxanobe: Spectacularly situated Michelin star restaurant on the top floor of the Palacio Euskalduna Convention Centre, offering a combination of traditional and innovative cuisine. 944 421 071
Nerua: Restaurant inside the Guggenheim Museum focussing on vegetables with terrace for drinks; one Michelin star. 944 000 430
Mina: Opposite La Ribera market, in a converted warehouse overlooking the river. Tasting menu (one Michelin star). 944 795 938
Zortziko: Andalucia chef Dani Garcia's Michelin-starred joint offers Basque dishes with a Mediterranean touch. 944 239 743
Top Restaurants in San Sebastian
Arzak: 19th-century house with the Arzak family's "laboratory" producing astonishing triple Michelin star meals. 943 278 465
Mugaritz: A favourite with the international gourmet press, this double Michelin-starred restaurant is also located in the countryside close to San Sebastian, with new ideas being produced all the time. 943 518 343
Ni Neu: Dramatic setting with stylish crowd in the modernist Convention Centre, the Kursaal. 943 003 162
Bodegon Alejandro: Modern cooking in a traditional setting, in the Parte Vieja district of the city. 943 427 158
A Fuego Negro: Innovative pintxos in an urban-chic interior. 650 135 373
Like our introduction to Basque Country food and drink? Explore some of its more off-the-beaten-track corners with our country tour guide.
Alternatively, if you're on holiday in the Basque Country and looking for a rental car, check out Gaursa Rent a Car's selection of car hire special offers.