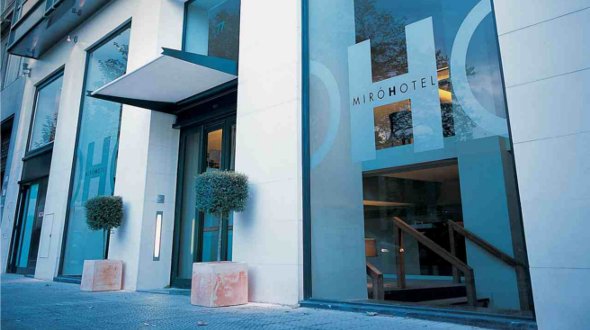 Bilbao has a wide range of hotels, to suit all budgets, from the luxury five-star to the humble two-star. There's a good choice of places near Bilbao's main attraction, the Guggenheim Museum. Most of the large, modern hotels in Bilbao are in El Ensanche, the shopping and business district, while the old town has smaller guest houses, close to the night-time action. All have free WIFI and the larger hotels have satellite TV channels.
Price range (double room): expensive: over 100 euros; moderate: 50-100 euros; budget: under 50 euros.
Hotels Near The Guggenheim
Silken Gran Domine (5 Star)
Why? For the design and views.
Large, modern, luxurious hotel with stunning façade covered with angled mirrors; decor is warm, contemporary and chic. Breakfast (good choice, but expensive) served on roof terrace looking onto Guggenheim and river. Tip: get a room looking onto the museum, for those fabulous metallic pink-orange glowing sunsets and sunrises; as well as the views, they're lighter. For a quieter room, go for the rear of the hotel. Expensive.
Miró (4 Star)
Why? For the location and style.
Small, sleek boutique hotel with friendly staff located across the street from the Guggenheim. Decorated by the Barcelona fashion designer Antonio Miro. Bar with free soft drinks for guests. Mini-spa. Expensive.
Hotels in El Ensanche
Barcelo Bilbao Nervion (4 Star)
Why? For the central location, swish new rooms.
On the river close to the Zubizuri bridge, for easy access to the modern area of the city, this was renovated in 2013 – rooms have open-plan bathrooms, iPod docks and 32" plasma TVs. Restaurant, café and vinoteca (wine room) with around 400 wines. Good breakfast. Moderate.
Carlton (5 Star)
Why? For the history and Art Deco elegance.
Majestic landmark hotel in the centre of town, well-placed for retail action, with Gran Via and Calle Ercilla a shopping bag's throw away. Contemporary interior retains classic features, such as the stained glass dome; rooms are tasteful. Library and gym. Tip: rooms on upper floors are quieter. Expensive.
Sercotel Coliseo (4 Star)
Why? Good location at a good price.
Busines Hotel medium sized with modern rooms and well located (near the railway station). Close to the Guggenheim Museum and also close to the old town, right next to the river. Coffee shop with outdoor terrace. Moderate.
Hotels in the Old Town
Basque Boutique (2 Star)
Why? Modern, contemporary and in the beating heart of the old quarter.
Original rooms decorated with lots of imagination – brick walls and beds with wooden made canopys-  are part of this lively and cozy 2 star hotel hidden in the old quarter. No breakfast, but there are a lot of coffee shops around it and it's a very good place to sleep in if you want to go out and eat some "pintxos" in the "Siete Calles". It`s a budget hotel.
Iturrienea Ostatua (2 Star)
Why? ¿Por qué? Personalized service of the charming owner.
A rustic hostel with cosy and beautiful rooms decorated with stone made walls and oak beams located close to the river in the old quarter. Her owner called Igone is friendly and kind. She can advise you about some places to visit.Some rooms are provided with a balcony. The Hostel is located on the first floor and there is no lift. Cheap.
If you are thinking about sleeping in one of these hotels , we suggest you to rent a car and visit the region. Gaursa Rent a Car offers a wide fleet of vehicles to solve problems of mobility. More information here.