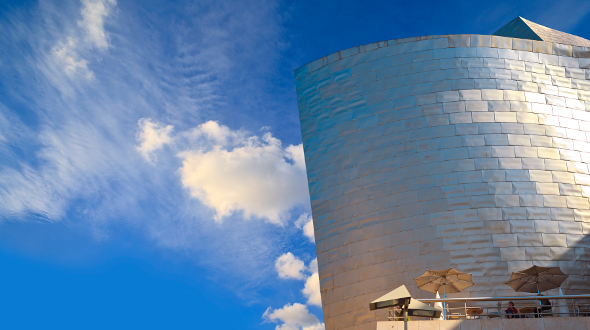 Due to Bilbao's location just inland from the coast – the city is just 14km south of the Bay of Biscay – the city has an "oceanic climate". This means that, because it's so close to the sea, Bilbao weather remains mild all year round, unlike many other parts of Spain, with pleasantly warm summers (average 20 degrees C) and not-too-cold winters (average 9 C). Winds are usually westerly.
As is typical of seaside towns, Bilbao gets plenty of rain; the wettest months being from October to April, with 100-150mm of rainfall; on one-third of the days in any year, there will be rain, though often light drizzle rather than heavy showers.
The weather in Bilbao is at its best during July and August as these are the driest months, and also the sunniest and hottest – temperatures can reach as high as 25º C. Bilbao never feels uncomfortably hot in summer, as you always get cooling breezes from the nearby Atlantic Ocean, and also from proximity to the river Nervion. The city is situated 19 metres above sea level, backed by mountains including Pagasarri, 673 metres.
In summer (July, August and September) you can expect around six hours of sunshine every day while May, September and October are warm, sunny months too, with temperatures of 15-18 C. The change from summer to autumn is gradual, with the mercury still reaching 15 C in October.
As for winter weather in Bilbao, you can expect between 9º to 12º C, and several hours of sunshine per day – January is the coldest month. Although it doesn't snow in Bilbao itself, you can see white mountain peaks from the city.
Spring brings a gentle rise in temperatures, typically 10º to 12º C, while hours of sunshine increase gradually, until May which sees thermometers rise to 15º C.
So when you visit Bilbao you don't need to wrap up too warm, but a brolly and raincoat are advisable. It's inevitable that the skies will open while you're in the city; you would be lucky to have a completely dry spell. The light misty rain that falls here even has its own name: sirimiri.
Bilbao Weather Forecast Sites
For up-to-date Bilbao weather reports, with five-day, seven-day and ten-day predictions, including hour-by-hour forecasts for temperature, wind, sun, rain and cloud, see these websites ­ although remember that weather can change suddenly, especially on the coast.
AEMET (Government's State Meteorological Agency)
RTVE (Radio Televisión Española)
Going on a car trip around Bilbao or the Basque country? Then check out Gaursa Rent a Car's car hire.