Best Basque Country Beaches
As one of Spain's smallest regions, with a rugged, dramatic 176 km-long coastline, the Basque Country has a surprisingly varied range of beaches. Whether you want a quiet family beach, or one with big waves for surfing, you'll find a stretch of sand to your taste in the Pais Vasco. Come with us along the coast on a tour of the finest beaches…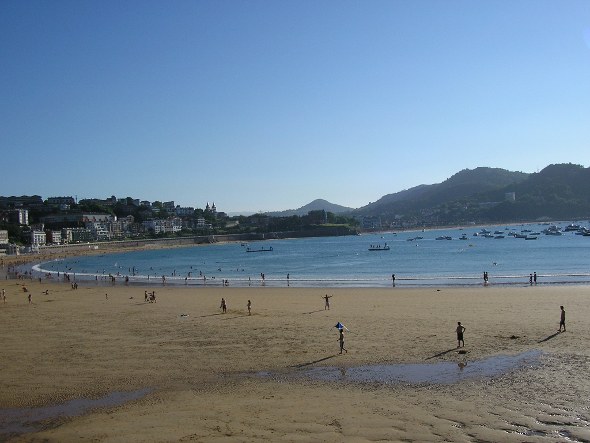 To the West
Starting in the west of the region, one of the closest beaches to Bilbao is cliff-backed Gorrondatxe-Azkorri in Getxo. A must for watersports enthusiasts, this beach has tricky access over grassy dunes, but the adventurous are rewarded with strong currents for excellent windsurfing and a clean Blue Flag beach. Nearby Gorliz (842m long) and Plencia (very sheltered location, great for children learning to surf) are both situated at the mouth of the river Butron and are both popular with Spanish families, offering many facilities such as campsites, picnic benches and playgrounds.
Following the coast past Cabo Billano, Baqio has a long promenade, and is great for surfing – you can learn this exhilarating sport here as there are two surf schools.
Heading East
The next beach destination along the coast, heading east, is Mundaka, world-famous for its surfing. This town is located inside Urdaibai Natural Reserve, a UNESCO-protected biosphere with marshlands home to osprey, heron and auk. Laidatxu beach is in the town centre, with a left peak only for highly experienced surfers, while Laga is one of the best Basque Country beaches from a scenery standpoint, backed by steep grey cliffs covered with emerald green vegetation; you can learn to surf at the school.
The Spanish royal family used to spend their holidays in Lekeitio, with its picturesque fishing harbour. Isuntza beach in Lekeitio town has gentle waves, making it ideal for all ages; activities include beach volleyball, sailing, canoeing and scuba diving.
After Leikeitio is the fishing village of Ondorroa – small Arrigorri beach is backed by rocks, and has facilities for canoeing and sailing.
Towards San Sebastian
Further along the coast, close to San Sebastián is Zarautz – at over 2.5km, it's the longest beach in the Basque Country. Another popular surfing beach, this has five schools, and has breaks for beginners and expert surfers alike. Best time for peaks: high tide.
But the most famous of all Basque Country beaches is in elegant San Sebastian, which also has regal connections – Queen Maria Cristina had her summer residence here. La Concha beach is its famed icon – a picture-perfect arc of golden sand which was voted the world's second-best city beach in Travel and Leisure magazine. It's not short of sports, either – you'll find volleyball and beach football, and the waves are great for body boarding. Older children will love the two floating platforms (gabarrones) with slides and diving boards located 300 metres off the shore.
Ondarreta (whose names means little beach in Euskadi, the Basque language), is the smaller beach next to La Concha, where you can see revered Basque sculptor Eduardo Chillida's wind sculpture El Peine del Viento. On the far side of the river mouth is San Sebastian's third beach, Zurriola, another good spot for surfing.
Like our roundup of the best Basque Country beaches and thinking of a trip? Find out what the weather's likely to be like before you book. (FALTA ENLACE)