Bilbao Airport is well served by both domestic and European airlines, offering regular services to cities around Spain, both on the mainland and the islands (Balearics and Canaries), and beyond. You can fly to Bilbao from over 10 European countries: the UK, Ireland, Austria, Belgium, France, Germany, Greece, Italy, the Netherlands, Portugal, Romania, Switzerland and Turkey.
Several budget airlines fly to Bilbao, offering cheap flights from cities including London (Heathrow and Stansted), Dublin, Madrid and Barcelona.
Airlines that Fly to Bilbao: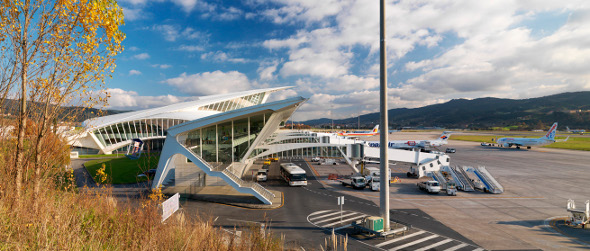 Air Berlin
The German carrier flies to Ibiza and Menorca.
Aer Lingus
You can fly with Ireland's national airline to Dublin.
Air Europa
The Spanish low-cost airline serves various national destinations from Bilbao. Alicante-Elche, La Coruña, Barcelona, Gran Canaria, Ibiza, Lanzarote, Madrid, Malaga, Palma de Mallorca, Sevilla y Tenerife Norte
Air France
The French national carrier flies to París Charles De Gaulle.
Air Nostrum
A subsidiary of the Spanish national airline, Iberia, this regional carrier flies to Alicante-Elche, Santiago de Compostela and Valencia.
Alitalia
Italy's national airline connects Bilbao with Rome Fiumicino.
British Airways
La aerolinea de bandera de Reino Unido vuela a Londres-Heathrow
Brussels Airlines
The Belgian airline, part of the Lufthansa group, flies to Brussels.
Czech Airlines
The national airline of the Czech Republic flies to Praga.
EasyJet
The British low-cost airline has flights to and from four cities: Geneva, Lisbon, London Stansted and Manchester.
Eurowings
The budget German airline, owned by Lufthansa, flies to Dusseldorf.
Iberia
Spain's national airline flies from Bilbao to Madrid and Barcelona.
KLM
The flag carrier airline of the Netherlands flies from Bilbao to Amsterdam.
Lufthansa
The German national airline flies to Frankfurt.
Norwegian
Norwegian offers cheap flights to Oslo.
Tap Portugal
The Portuguese airline flies from Bilbao to Lisbon.
Turkish Airlines
Turkey's national airline has two routes: Istanbul and Santiago de Compostela.
Swiss
Swiss International Air Lines, the flag carrier airline of Switzerland, flies to Zurich.
Volotea
The Barcelona-based airline has one route from Bilbao: Venice Marco Polo.
Vueling
This is the carrier which offers the largest number of flights to and from Bilbao. A Coruña, Alicante-Elche, Amsterdam, Barcelona, Berlín, Bruselas, Fuerteventura, Gran Canaria, Ibiza, La Palma, Lanzarote, Londres-Gatwick, Madrid. Menorca, Milán-Malpensa, Palma de Mallorca, Paris-Orly, Sevilla, Tenerife Norte and Valencia.
Please be aware that flight routes can be added or removed at any time. Also, some destinations are only served in high season (June to September).
For the most up-to-date and detailed information on which airlines fly to Bilbao airport, and which destinations they fly from, we advise you to check with the airport, and with each airline.
When flying into Bilbao let us know your flight details and Gaursa Rent a Car will be waiting for you at arrivals with your hire car.